Dennis Oppenheim
Armatures for Projection: The Early Factory Projects
Curated by Raul Zamudio
January 16 – February 14, 2004
Press
Village Voice, "Clocking into Dennis Oppenheim's 'thought collision factories' "01/04-10/2004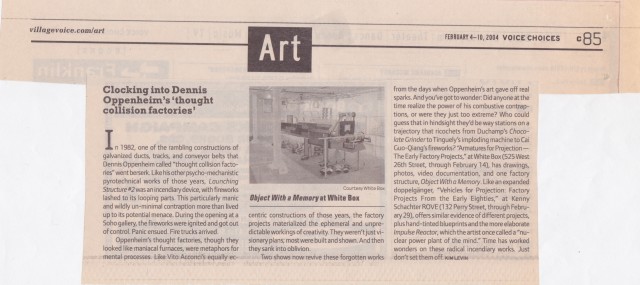 Link to VIEW THE PRESS RELEASE
New York City – White Box is pleased to announce the exhibition, Dennis Oppenheim: Armatures for Projection: The Early Factory Projects. The exhibition consists of works on paper, photographs, video, and a sculpture all made between the early 1970s and the mid 1980s. The works on paper are the formal and conceptual precursors to sculptures and installations that Oppenheim collectively called "the early factory projects."
Opening at WhiteBox in Chelsea
Re-contextualized in the exhibition as formally independent from his three-dimensional works, the works on paper exemplify Oppenheim's mastery of line that is fluid and biomorphic as it is hard-edge and geometric, and that simultaneously evinces organic and synthetic qualities.
The "early factory projects" sculptures can be generally characterized as mechanical and dynamic and are highly diverse in material and composition. Varied in formal structure, these early pivotal works by Oppenheim extend in myriad directions the psycho-mechanistic elements of Duchamp's Bride Stripped Bare by Her Bachelors, Even. The sculpture on view in the exhibition will be Object with a Memory (1983), which thanks to the Munson-William-Proctor Arts lnstitute in Utica, will be on view for the first time in twenty years at White Box.
Dennis Oppenheim works for Armatures for Projection: The Early Factory Projects
The photographs in the exhibition are from a series of earthworks and process-oriented installation pieces from the early r97os that involve the use of flares. The flares were placed to make up words that were then ignited on the landscape. While an aspect of earthwork concerned the circumvention of the museum and gallery via site-specific work made outside the traditional exhibition space, Oppenheim's flare pieces looked ahead to other forms of site-specificity where the social context of a given space became crucial for the work's realization. One work, for example, spelled the word "poison" and refers both to environmental pollution as well as the sulfur that emitted from the flare. Oppenheim's pyrotechnical earthworks from the early r97os have been very influential and this form of ephemeral sculpture/installation has most recently been seen in the work of Cai Guo-Qiang.
Special Thanks to CROBAR.