PSYCHLOTRON*
PERFORMANCES
Tomchess & Daniel Carter | Thomas Albrecht
Houston Bower | Storyboard P
Saturday, October 1
8 – 11:30 pm
"Where passive imprints and involuntary social conditioning can be dissolved; where human elements can be freed and accelerated to higher states of intensity and recorded".
A term borrowed from Timothy Leary which he borrowed from quantum particle physics. In a partial collider the final area of contact has a spiral of magnets called a cyclotron. In this case, the experiment is the performing arts and we- the attendees are the particles colliding together. One never knows exactly what will happen.
John Bonafede has made and produced performance events in NYC for 20 years including his Psychlotron* series. Happenings at art galleries and alternative art spaces in Manhattan, Brooklyn and overseas make each event unique.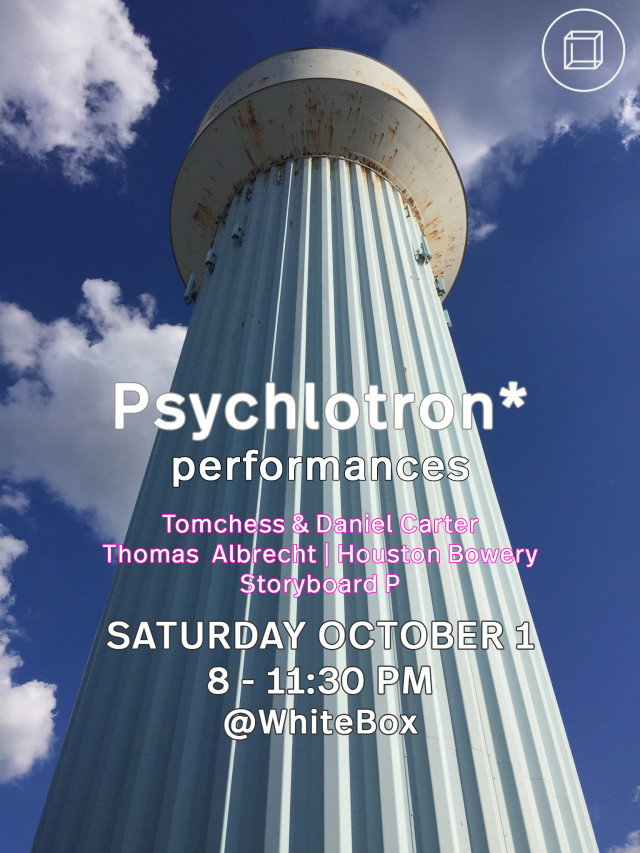 Having known and played music with each other in multiple settings over the last 18 years, American free jazz saxophone, flute, clarinet, and trumpet player Daniel Carter and NYC based Multi-instrumentalist/improviser/composer Tomchess, here playing Oud, Neyand Morsing, bring their deep love and extensive experience with the art of improvised musics wherever they play. Here in a quartet setting filled out by Percussionist Dan Kurfirst and Upright bassist Zachary Swanson, the musical journey is certain to be unique and highly engaging.
NYC based Multi-instrumentalist/improviser/composer Tomchess has played and recorded with some of the heaviest players in the improvisational scene (Dewey Redman, Butch Morris, Pharoah Sanders, Drew Gress, Ronald Shannon Jackson), as well as Morrocan Sintarist Hassan Hakmoun. Having deeply studied the Near Eastern, and North African traditions his sound encompasses the tonal palette, rhythms, and forms of these traditional musics while never losing sight of his American roots and the importance and freedom of improvising. He has performed in Africa, Canada, Holland, India and Italy. He has performed at Lincoln Center, The David Rubinstein Atrium, The Turkish Embassy, The Pakastani Embassy, the Asian Society, The Natural History Museum, The Metropolitan Museum, The Himalayan Museum of Art and The United Nations among countless other venues in NYC and the United States. He has performed on NPR and PBS. He has played on Grammy Nominated recordings. He has been awarded grants from the Turkish American Society and The Maryland Council For The Arts. He was nominated for an 2012 Independent Music Award.
Daniel Carter is an American free jazz saxophone, flute, clarinet, and trumpet player active mainly in New York City since the early 1970s. Daniel is a prolific performer and has recorded or performed with William Parker, Federico Ughi, DJ Logic, The Negatones, Thurston Moore, Yo La Tengo, Soul-Junk, Anne Waldman, Cooper-Moore, Matthew Shipp and scientist/musician Matthew Putman among others. He is a member of the cooperative free jazz groups Test, Other Dimensions In Music, odon and Ghost Moth.
Thomas Albrecht's performance projects have explored ritual and language in public spaces, galleries, and museums, prodding cultural beliefs and individual doubts. Current interests involve duration and elements of Absurdist Theatre, laying bare contingency in human constructions and slippage between truth and fiction. Albrecht has performed throughout the United States and internationally, notably at Grace Exhibition Space (New York), Defibrillator Performance Art Gallery (Chicago), Panoply Performance Laboratory (New York), Dimanche Rouge Paris, and during festivals such as the Brooklyn International Performing Arts Festival, Month of Performance Art Berlin, and Performatorio IV in the Dominican Republic. He received his BFA from the Rhode Island School of Design, a Master of Arts in Religion from Yale University where he served as the Menil Scholar in residence, and his MFA from the University of Washington. He serves as Assistant Dean in the School of Fine and Performing Arts, and Associate Professor in the Art Department, at the State University of New York at New Paltz.
Houston Bowery (aka Alexcalibur) is a tectonic force of nature. At once both flamboyant and understated, he brings a physicality to his musical performances with a certainty that is undeniable. Whether with a music band or solo, the surreal lyrics are given wings with a baritone range turning in an aerial dogfight.
26 years old, Storyboard P is a new state-of-the-art model of performance art. Dubbed the Basquiat of street dance by The New Yorker, he's elevating the genre and conversation while creating a new lexicon along the way.
$ 15 Suggested Donation
The programs of WhiteBox are made possible in part by public funds from the New York City Department of Cultural Affairs in partnership with the City Council