WhiteBox presents
Mitch Corber's
Nomads of New York
January 31 @ 7pm
screening  + poetry reading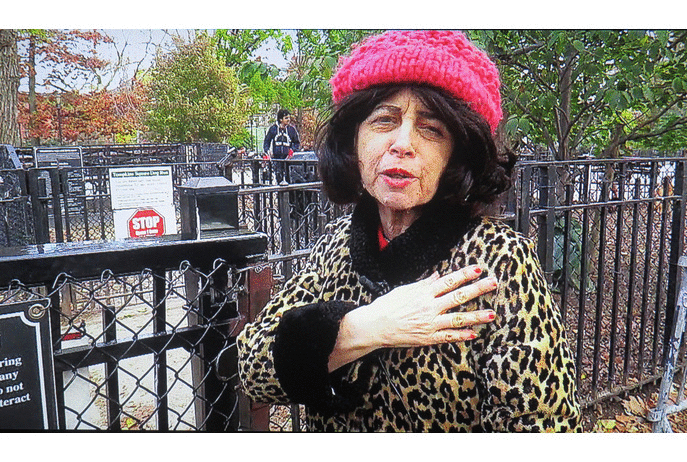 Veteran filmmaker Mitch Corber explores the lives of artists in "Nomads of New York," an esthetic tour de force documentary. Two dozen poets, musicians and artists encounter Corber's intimate camera, each with a lively and special take on their chosen craft.
Before the screening, seven poets appearing in the film will entertain us in a live poetry event. Scheduled readers are Ron Kolm, Larissa Shmailo, Bill Considine, Dorothy Friedman, Elinor Nauen, Sparrow and the filmmaker.
Fitting his imaginative shooting styles to the subjects of the moment, Corber revisits the 1988 battlefield of Tompkins Square Park via the site-specific prose and poetry of Friedman. He wades through the paradisiacal white space of a gallery where Robin Winters is setting up the show for his sharply whimsical constructions. And he follows Clayton Patterson, the "anti-mayor of the Lower East Side," on a walking tour of a perilously changing neighborhood.
The film features invaluable archival footage of Paul Violi, Eileen Myles, Thad Rutkowski and Allen Ginsberg singing Blake. Also featured in the documentary are Frank Mann, Sheryl H. Simler, Bob Rosenthal, Lewis Warsh, Hettie Jones, Elizabeth Morse, Tom Savage and Gregory Gelman.
Corber is presently at work on a sequel to "Nomads of New York" that examines the displacement of artists throughout NYC. He's also known as the creator of the informative remastered 1990 documentary "John Cage: Man and Myth," which had its world premiere last April at WhiteBox.
"Gorgeous…funny…I loved all the poets" — poet / translator Hillary Keel
"Rich and varied…a delightful aesthetic experience" — poet John J. Trause
Cast:
Artists: Frank Mann, Clayton Patterson, Robin Winters
Poets: Bill Considine, Corber, Dorothy Friedman, Hettie Jones, Ron Kolm, Elizabeth Morse, Eileen Myles, Elinor Nauen, Bob Rosenthal, Thad Rutkowski, Tom Savage, Larissa Shmailo, Sparrow, Paul Violi, Lewis Warsh and Lehman Weichselbaum
Musicians: Corber, Gregory Gelman, Allen Ginsberg (with Heather Hardy & Steven Taylor) and Sheryl H. Simler