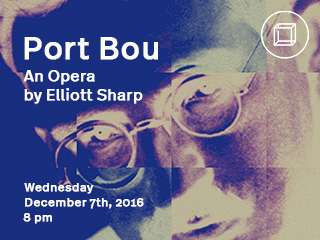 ---
Performance:

December 7, 2016

|

8pm
Tickets (sold at the door): $20

The opera PORT BOU by Elliott Sharp presents the last moments in the life of philosopher Walter Benjamin at Port-Bou in 1940 as he was fleeing Nazi-occupied France. The work features the astounding Nicholas Isherwood, bass/baritone, the virtuosi Jenny Lin, piano, and William Schimmel, accordion, as well as Sharp's recorded electroacoustic sound files and the video sets and settings of Janene Higgins.
In his spoken introduction to the Berlin performance of PORT BOU, Volker Schlörndorf, director of The Tin Drum stated:  "Anybody's agony, the night before closing the door on the world, is hard to transcribe in musical notes, I thought, even more so a philosopher's Angst. Yet, it can be done, and his voice, this particular voice, roaming a hotel room in exile, is proof of it. A metaphysical achievement."
The Final Moments in Benjamin's Life
What might we surmise about the internal state of a man deciding that life is no longer livable, especially when that man is Walter Benjamin in 1940 in the border town of Port Bou, attempting escape? As the Second World War was increasing in magnitude it was not uncommon for Jewish writers, artists, and professionals to carry the means of suicide with them, believing it to be preferable to internment and torture at the hands of the Nazis. This was a time of desperation and götterdämmerung was in the air, whether global or personal.
Benjamin was unafraid to delve into the myriad philosophies and modes of living presented to him but never would fully give himself to any of them. Whether it was domestic tranquility, mysteries of the Kabbala, political Zionism, the erotic, pure Communism, or academic abstraction, all offered seductions and enticements but never enough for a complete commitment. Benjamin was solipsistic and sybaritic, sufficiently fulfilled by his solitary obsessions and interests to remain an autonomous free-agent. His strengths were of the esthetic, the cerebral, not those of a man who might suffer and fight for his ideals.
While attempting to reach Lisbon and from there, ship's passage to America, Benjamin attained a realization that the obstacles to his salvation were insurmountable. Then and there, he chose to submit by the obvious means at hand to remove himself from conflicts both internal and external. We might see this as an act of exhaustion, not a willful exit but a collapse of will, the loss of inner reserve.
In PORT BOU, Sharp attempts to manifest this state, all taking place in the last few minutes of real-time for Benjamin. As composer and author, he acts as an antenna for the imagined emanations of Benjamin's distress and translate them to the frequencies of music and drama. Benjamin was heroic in his thoughts but PORT BOU does not attempt to make a hero of the man. He is yet another innocent casualty of a great tragedy, one in which he might never have imagined himself a protagonist.
---
ELLIOTT SHARP is a central figure in the avant-garde music scene in New York City for over thirty years, Elliott Sharp leads the projects Orchestra Carbon, SysOrk, Tectonics and Terraplane, and has pioneered the application of fractal geometry, chaos theory, and genetic metaphors to musical composition. Winner of the 2015 Berlin Prize in Music and a 2014 Guggenheim Fellowship, Sharp has has been featured in the Darmstadt and Donaueschingen festivals, New Music Stockholm, Au Printemps-Paris, Hessischer Rundfunk Klangbiennale, and the Venice Biennale. His Storm of the Eye, composed for Hilary Hahn, appeared on her Grammy-winning album In 27 Pieces. His opera Port Bou premiered in NYC in 2014 and in Berlin in 2015. Sharp's range of collaborators have included Qawwali singer Nusrat Fateh Ali Khan; Ensemble Modern; Debbie Harry; blues legends Hubert Sumlin and Pops Staples; RadioSinfonie Frankfurt; jazz greats Jack Dejohnette and Sonny Sharrock; JACK Quartet; turntable innovator Christian Marclay; and Bachir Attar, leader of the Master Musicians Of Jahjouka, Morocco. His work is the subject of the documentary Doing The Don't and he has been featured on NPR's "All Things Considered". Installations include Foliage, Fluvial, Chromatine, and Tag. His Cryptid Fragments was included in the Bitstreams show at the Whitney Museum. 
JANENE HIGGINS is a graphic designer and video artist based in NYC. Her short videos have been presented in festivals and galleries internationally. In the realm of video performance, she has collaborated with many of New York's preeminent composers and improvisors of New Music. Her work as a graphic artist and designer of motion graphics has been featured in major magazines, CD covers, and the windows of Saks Fifth Avenue.
NICHOLAS ISHERWOOD is a US-born bass singer, who specialises in contemporary and baroque music. Notable roles include "Lucifer" in the world premieres of Stockhausen's Montag, Dienstag, and Freitag from Licht at La Scala and the Leipzig Opera, and in Donnerstag aus Licht at Covent Garden. Isherwood has worked with Joel Cohen, William Christie, Peter Eötvös, Paul McCreesh, Nicholas McGegan, Kent Nagano, Zubin Mehta and Gennadi Rozhdestvensky as well as composers Sylvano Bussotti, Elliott Carter, George Crumb, Hans Werner Henze, Mauricio Kagel, György Kurtág, Olivier Messiaen, Giacinto Scelsi, Karlheinz Stockhausen, and Iannis Xenakis in venues such as La Scala, Covent Garden, the Théatre des Champs Elysées, Salzburg Festival, Concertgebouw, Berlin Staatsoper, Vienna Konzerthaus, Tanglewood).  His operatic roles include: "Antinoo" in Monteverdi's Il Ritorno di Ulisse in Patria with Boston Baroque; "Claudio" in Händel's Agrippina with Nicholas McGegan; "Satiro" in Rossi's Orfeo and "Pan" in Marais' Alcione with Les Arts Florissants; "Joas" in Porpora's Il Gedeone with Martin Haselböck; "Frère Léon" in Saint François d'Assise in the last composer supervised production; "Der Tod" in the two productions of Ullmann's Der Kaiser von Atlantis with the Internationale Bachakademie Stuttgart and 2e2m, "Roméo" in Dusapin's Roméo et Juliette at the Avignon Festival; "Lear" in Hosokawa's Vision of Lear for the Munich Biennale; "Il Testimone" in Bussotti's Tieste at the Rome Opera, and "Micromégas" in Mefano's Micromégas. Recent performances include works by Sylvano Bussotti at the Stockholm New Music Festival in 2008.
JENNY LIN was born in Taiwan and raised in Austria and the USA. She began her piano studies at the age of 4. She received an Artist Diploma from Peabody Conservatory and also holds a bachelor's degree in German Literature from Johns Hopkins University. She has worked with Richard Goode and Blanca Uribe in New York, and with Leon Fleisher, Dimitri Bashkirov and Andreas Staier at the Fondazione Internazionale per il Pianoforte in Cadenabbia, Italy. Jenny Lin's concerts have taken her to Carnegie Hall, Avery Fisher Hall, Kennedy Center, MoMA, Whitney Museum, National Gallery of Art, Corcoran Gallery, and to festivals worldwide including the Chopin Festival in Austria, Ars Musica Festivals in Belgium, Shanghai New Music Festival, Divonne Festival in France, Schleswig-Holstein, Potsdam and Husum Festivals in Germany, Millennium Festival in Spain, and Festival Archipel in Switzerland.
WILLIAM SCHIMMEL, accordion, is one of the principal architects in the resurgence of the accordion, the revival of the Tango in America and the philosphy of Musical Reality (composition with pre-existing music). He has performed with most major symphony orchestras in the United States as well as virtually every chamber and new music group in New York. He is the founder of the Tango Project and worked with John Cale, Sting and Tom Waits, who made the legendary statement: "Bill Schimmel doesn't play the accordion, he is an accordion".